Live and Let Live. Buena Vista Township is a community without pretense. Big land area (41 square miles), small population (7,600). There are large tracts of farmland, protected Pinelands, prized lakes a nd rivers (Maurice River and Collings Lakes).
The Buena Vista Township local government is not intrusive, so much so that there is no local police department in the entire district. Law enforcement is provided by the New Jersey State Police — Troop A headquarters located on State Highway Route 54. The spirit of Buena Vista Township is revealed in its patriotic volunteerism. Five Fire Departments dot the region, all volunteers, no pay. These prideful individuals put their lives on the line, all for the safety and greater good of the community.
Natures abundance is on full display here in Buena Vista Township. An outdoorsman's paradise. Bring your quads, canoes, and camouflage. Thousands of acres of protected pine forest — home to an amazing array of wildlife. White tail deer, wild turkey, red fox, graceful hawks, and and the clandestine bald eagle are on full display everyday.
BUENA REGIONAL SCHOOLS
Educational excellence awaits in Buena Vista Township. The Buena Regional School District consists of 3 elementary schools:
Collings Lakes Elementary School (K-3rd grade)
John C. Milanesi Elementary School (PK, K-3rd grade)
Dr. J.P. Cleary Elementary (4th-5th grade)
Buena Regional Middle (6th-8th grade)
Buena Regional High School, The Buena Chiefs, (9th-12th grade)
Both Estell Manor City and Weymouth Township are part of a sending/receiving relationships sending students 9-12 to Buena Regional High School.
A BIT ECLECTIC
Buena Vista Township includes many diverse and unincorporated communities. The western most area is Buena. The southern most — south of Route 40 are: East Vineland and Milmay. Richland parallels Route 40 (aka Harding Highway). New Kuban, Newtonville, Lake Ann, and Collings Lakes are more to the north. Culturally and Religious diverse, a main reason for early settlement in Buena Vista Twp was for agriculture and mining. Rich soils for farming and fine sand for glass manufacturing are still important in today's economy (Comar and Wilmad Glass) continue to be major area employers).
BUENA VISTA COUNTRY CLUB
Buena Vista Country Club is a landmark just of of Route 40. The total yardage is 6,864 yards with 18 holes of great golf. Affordable yet extremely challenging.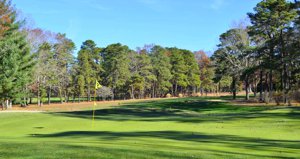 A favorite attribute among the golf faithful is the incredible scenery. All fairways are lined with tall pines — plenty of wildlife, its not uncommon to have deer run out onto the fairways! The real estate bordering the golf course tends to be the highest value in the Township. Country Club Lane and connected by-ways have some of the most elegant brick mansions anywhere in South Jersey. High End Golf and High End Real Estate, sounds "on par" to me!
SAINT AUGUSTINE PRIVATE SCHOOL
Founded in 1959, St. Augustine Preparatory School is an all-male Catholic High School. Current enrollment is approximately 750.
The Prep as it is affectionately known, educates young men from grades nine through twelve. It is accredited by the Middle States Association of Colleges and Schools, New Jersey State Educational Association, the Diocese of Camden, and the Augustinian Educational Association. St. Augustine Prep is also a member of the New Jersey Association of Independent Schools.
Students must apply and be accepted by Admissions. Entrance is very competitive. Some requirements of admission include a release of records from the students current school records, and Math and English Recommendation letters. St. Augustine is a perennial powerhouses in High School Basketball. The "Hermits" are also well respected in Baseball, Soccer, and Lacrosse.
COLLINGS LAKES
Collings Lakes... Nice people, real spirit, working class, and always good value here! Collings Lakes has about 30% of Buena Vista Township's population, approximately 1,750 residents and about 575 households. Cains Mill Road is the main thoroughfare (its nice and straight!),
but the rest of Collings Lakes streets are lean and looping, guaranteed you get lost the first few times! Mostly ranchers, bi levels, and split levels. Collings Lakes homes in good condition, typically sell in the range of $130,000 to $170,000. Collings Lakes is notable for its excellent volunteer fire department, Station 123, Collings Lakes Elementary School, and Our Lady of the Lakes Church.
Originally, the body of water collectively known as Collings Lakes were cranberry bogs. A small community in the 1950's developed around the agricultural operations there. Eventually the cranberry business waned and ultimately ceased — but the Collings Lakes community continued to grow. Many homes enjoy gorgeous lake vistas. Interestingly enough — there is no street referencing cranberries. I guess the developers didn't want to get "bogged" down with too many details!