A quick story about Winslow Twp...
WINSLOW TOWNSHIP
The rise of Winslow Township is a source of pride among its residents. Not long ago Winslow Township's landscape was completely dominated by agriculture — orchards as far as the eye could see. There's always mixed emotions when the land is decommissioned from farming and in Winslow Township its no different. Prior to 1965, and the opening of the Atlantic City Expressway, it was farm country. A large area on Winslow Township's eastern side remains rural. Western Winslow is sensible suburbia with a thriving commerce district at Cross Keys Road. Winslow Township is the largest municipality in Camden County — 58 square miles to be exact. The population steadily rose after the opening of Expressway interchange 38 at Williamstown Road. This spurred developers to the area and began the dawn of the Sicklerville growth era which continues today.
BETTER BY THE DOZEN
Winslow Township is a collection of unique communities which include:
Sicklerville, Tansboro, Winslow Junction, Cedar Brook, Blue Anchor, Braddock, Albion, Ancora, West Atco, Elm, Elmtowne, and Waterford Works.
Caution! These roots run deep — mistake one section for the other and you'll politely be made aware — the locals are prideful and playfully serious!

The Braddock section is where the Winslow Township Municipal Complex is located and always buzzing with activity. Through a determined effort, water and sewer lines are now in place allowing for continued growth on and around the Route 73 corridor. Winslow Township government has made a commitment to attract new business and new housing construction. A positive business climate assisted by beneficial incentives for developers make Winslow Township a rising star.
EXPOLSIVE GROWTH
Another interchange (Exit 41) was added in the 1980's at Cross Keys Road. This fueled even more growth. Wiltons Corner and Wyndam Hill are two mega planned unit developments in Winslow Township, each with 1,000+ single family and townhouse units.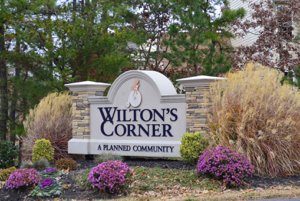 More recently, Ryan Homes built the communities of High Pointe Estates and Westbury Hunt, Schaeffer Communities has constructed White Cedars and White Pines at Waterford Farms. All splendid developments — perfect for growing families. Cross Keys Road has become a Serious Shopping Corridor. All the major foods and service brands are there. The Exit 41 ramp provides direct access to busy Cross Keys Road.
WINSLOW TOWNSHIP SCHOOLS
The Winslow Township School District is a Pre-Kindergarten through Grade 12 public school system. The district was formed in 1998, after voters approved a split from the Lower Camden County Regional School District, creating the Edgewood (later renamed Winslow) middle and high schools in 2001 to accompany the previously existing K-6 schools. There are 4 Elementary Schools (Pre K-3rd grade), 2 Upper Elementary Schools (grades 4-6), Winslow Township Middle School (grades 7-8), and Winslow Township High School (grades 9-12).
SCHOOL RANKINGS
Winslow Township School District Rankings and Stats
THE TALE OF TWO PHILOSOPHIES
Suburbia or Farm Country, pick your pleasure. Either is yours in Winslow Township. More of a suburbanite? The communities of Sicklerville and Albion have all the major chains (Target, Lowes, Texas Roadhouse, Dunkin Donuts, Sams Club), just to name a few. While to the east, its farmland as far as the eye can see. Expressway Exit 33 is your eastern access. Popular local farm markets include Mr. Green Jeans, Fiorentino Farms, and Pastore Orchards. We would be remiss in not acknowledging the landmark white horse at White Horse Farms in gateway Elm.