OUR MISSION
To professionally guide Buyers and Sellers through complicated real estate transactions... validating their choice with a positive result.
Joe Wiessner Realty exists to serve real estate Buyers and Sellers. We must provide effective solutions to complex customer needs and wants. With trust at the center of every decision, our clients will feel that they are getting the very best real estate representation. We understand dreams and desires... We provide creative ideas to turn bottlenecks into opportunity.
We prepare as top athletes prepare - recognizing in advance that real estate processes are in constant change and flux; continuing our "fine tuning" and training to stay ahead of the knowledge curve... ever evolving. We understand family and finances, never shying away from the goal of satisfying each of our client's unique expectations.
To us, effective and expedient representation is at the core. We professionally negotiate on behalf of clients, anticipating potential risks, and providing good remedies... all in a continual effort to produce a positive outcome.

Our commitment is to continue to raise the standards in real estate. Our meaning of innovation is pushing forward with responsive-cutting edge communication, gaining new knowledge that builds on past successful practices, and of course! - good ol' customer service with a smile!

At Joe Wiessner Realty, we believe in the abundance mentality, where opportunity and optimism abounds everywhere. Our positive approach helps the process along for both Buyers and Sellers - Landlords and Tenants... each with diverse perspectives, all seeking a fair deal. We are the arbiters of fair-play and can "sniff-out" scenarios and actions detrimental to our customers.

Our responsibility is to make the complex understandable, to be an unwavering client confidant, and to vigorously represent the deal all the way to closing.

At Joe Wiessner Realty, it's in our nature to under promise and over deliver. We know that one customer well taken care of will tell dozens more...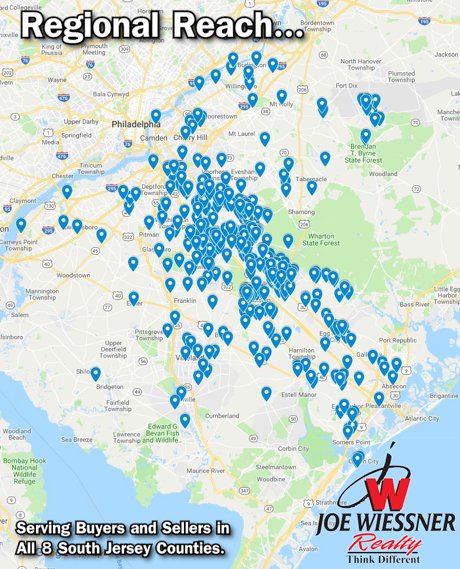 Our "All Pro" Joe Wiessner administrative staff is there to answer the call, send and receive texts, manage the avalanche of incoming documents, qualify customers, and create and post great social media ads. Our admin staff are some of the best talent anywhere in South Jersey.

Joe Wiessner Realty represents a culture where doing it well and to completion is routine. We seek daily improvements to our systems and processes. The ability to see the trends developing in the early stages are only recognized later as game-changers, thereby the originators of the trend! Identifying the creative nuances that work and implementing them translate to better outcomes for our clients.
We invest heavily in our employees, Agents, and technology inspiring even more innovation. Everyday, we are driving advances that lead the way in South Jersey real estate, creating a more seamless fast and friendly experience, giving our clients the edge!
Think Different
"It's not one technology element, nor a single person, agent or manager, not one social media venue, or billboard that is the key to Joe Wiessner Realty. The secret is the incredible talent in every corner of Joe Wiessner Reaty and their special blend of business acumen, communication skills, deal making artistry and and creativity, - it's their unique way of working together."
Joe Wiessner, Founder and Broker of Record of Joe Wiessner Realty, LLC.